Notification
Any operation including R&D, production or manufacturing operation involving LMOs, or storage of LMOs, undertaken within a facility, installation or other physical structure such as it prevents contact and impact of the LMOs on the external environment.
Application
1. Apply to exportation of living modified organisms
2. Contained use involving living modified organisms
3. Importation of living modified organisms for purposes of undertaking a contained use activity
Submission of notification
The notification shall be submitted to the Director General through the Institutional Biosafety Committee in the prescribed form and accompanied by the following documents:
1. An emergency response plan
2. Specific measures for the contained use activity (regulation + IBC)
3. Such other information as may be specified by the Board
4. Compliant with requirements of importing country (export)
Acknowledgements
1. The Director General will issue an acknowledgement of receipt and the person to whom such acknowledgement is issued may undertake the activities relating to the notification and may continue to undertake such activities subject to any order made by the Board.
2. The acknowledgement issued shall in no way absolve the person from complying with other written laws governing such living modified organism and its importation.
Exemption
The First Schedule of the Biosafety (Approval and Notification) Regulations 2010 allows exemptionsfor some types of techniques and contained use activities in relation to LMO posing a very low risk (i.e.contained research activities involving very well understood organisms and processes for creating and studying LMO):
1. Exempted activities should be carried out under conditions of standard laboratory practice. 
2. Appropriate biosafety levels as according to Second Schedule of the Biosafety (Approval and Notification) Regulations 2010 should be used for the exempted activities and personnel should have appropriate training. 
3. Principal Investigators who believe that the work falls into any of the exemptions should nevertheless notify their IBC of the proposed project. 
4. The IBC may review all submitted research projects to determine their exemption or non-exemption status.
Notification process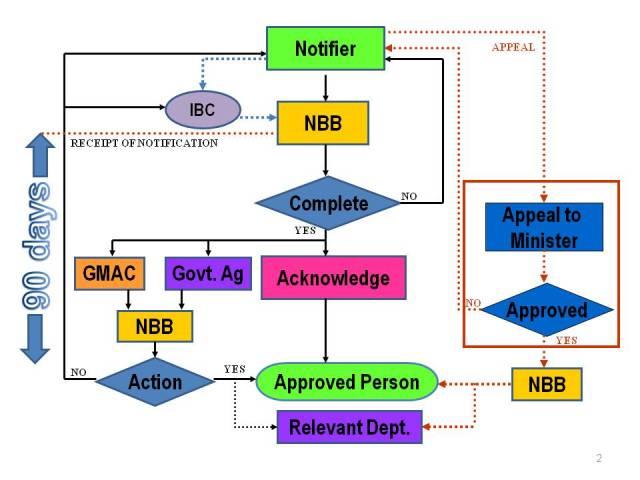 Contained use activities which are exempted from the notification
Biosafety (Approval and Notification) Regulations 2010 (page 20-27).
Notification form