All release and import of LMOs and products of such is prohibited unless approved by the Board. The release activities as spelt out in the 3rd schedule in the Act are: Research and development purposes in all field experiments 
- Supply or offer to supply for sale or placing on the market
- Offer as gift, prize or free item
- Disposal
- Remediation purposes
- Any other activity which does not amount to contained use
Approval Process
Approval Fees
Approval Form
Approval Process
I. An application for approval must be completed and submitted to the Director General (DG) in the prescribed manner, together with the prescribed fees, and be accompanied with:
• risk assessment and a risk management report
• emergency responses plan
• other information as may be specified by the National Biosafety Board (NBB)
II. Upon receiving the application the DG shall
• Refer it to Genetic Modification Advisory Committe (GMAC) for its recommendations,
• Refer it to relevant government agencies for specific matters
• Invite public participation for purpose of public disclosure
III. GMAC shall forward its recommendation whether or not the application should be approved and the terms and conditions to be imposed by the NBB, if any, after the assessment. 
IV. After having considered the recommendations of the GMAC, the comments of the relevant department or agency, the views of members of the public, if any, and any additional information, the NBB may grant the application by issuing a certificate of approval or refuse the application.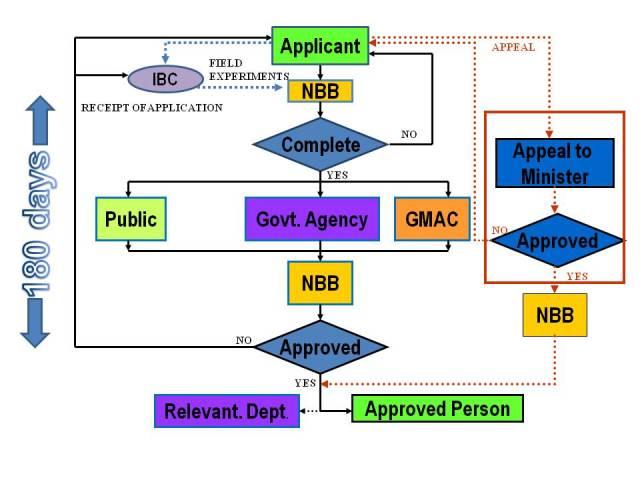 Approval Fees
For release activities, the Regulations prescribe the fees as follows:
i. For R&D purposes in all field experiments per release site:
less than 5 hectares – RM100

5 hectares to 10 hectares – RM250

More than 10 hectares – RM500
ii. All release activities other than above – RM5000.
The fees must be paid by money order or bank draft in the name of the Secretary General of the Ministry of Natural Resources and Environment.
Please email This email address is being protected from spambots. You need JavaScript enabled to view it. for more information
 Approval Forms